I am Heather Smith. I am a writer.
I can help you deliver powerful, distinctive, engaging and educational content. Through my authentic voice I can bring different ideas, perspective and diversity to your content. I can enhance and validate your brand awareness, and broaden your reach by sharing content with the community I am connected with.
According to a McKinsey Study, marketing-inspired word-of-mouth generates more than twice the sales of paid advertising, and these customers have a 37% higher retention rate.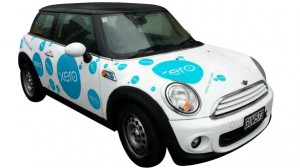 Your audience wants fresh new content on a regular basis – spice it up with my independent credible voice.
With fifteen years' experience as a small business accounting consultant, authoring seven business and accounting books, including the international best seller Xero for Dummies, a YouTube channel with close to a quarter of a million views, I have the knowledge, expertise and credibility to talk about your business solution to the business community.
Content creation can include: guest blog posts, article writing, product reviews, educational how to's, video creation, podcasts, social media account takeovers, campaign collaborations, social media blasts and giveaways.
Examples of guest blog post include: Trade Gecko intelligent, contemporary articles on inventory, that assist accountants and bookkeepers understand the inventory solution Trade Gecko, understand how Trade Gecko fits in with Xero, and provide insight into easy strategies for increasing their income while supporting the inventory function of their client. In addition to writing these articles, I promoted them via social media, and dropped links into relevant forum conversations. Useable information enhancing the brand reputation, and knowledge of this solution.
Examples of podcasts: Click here to access the Cloud Stories podcast, and read the transcript here: Cloud Stories. I interview a range of people from accountants, bookkeepers, add-on solution providers, end users, and even some Xero team members. The interviews are under an hour long, and are an opportunity to gain a deep understanding of businesses, via both audio and written form. RentalSaaS  is the sponsor of the first ten shows, and with over 2000 downloads, have been exposed to global users. There is the opportunity to be both interviewed on the show, and advertise on a group of episodes. Each show is promoted via social media, and with growing subscriber numbers, reaches lots of people. Ideal promotion for a solution like RentalSaas that is very specific, but perfect for the right business model.
Examples of educational videos: I have numerous  clear easy-to-follow videos on my YouTube channel. Click through and join over subscribers. Here is an example of a video I did with Xero and also with QuickWinDevelopment. All 1483 subscribers are notified when a new video is added, and advisors can embed them on their website (as they are CONTENT not sleezy sales videos!) . Here's an example. I've also developed videos with Xero you can read about it here.
Mentoring
I'm frequently asked to mentor people. Let me say – I am humbled and flattered by this – thank-you for thinking of me. Through my writing, I extensively share my methodologies, business strategies and work life balance practices. If however you'd like to take it further you are invited to purchase a block of time with me to have a chat with me about anything related to your bookkeeping, accounting advisory practice.
Coffee and a Chat
Through my writing, I extensively share my methodologies, business strategies and work life balance practices. If however you'd like to take it further you are invited to purchase a block of time with me to have a chat with me about anything related to your small business.
This gives you the opportunity to talk to an independent experienced resource about anything you need to. Maybe you want to;
Discuss the strategic direction of your business
Brain storm small business issues
Ask specific questions about your numbers
Discuss software options for your business including Xero and the Xero eco-system
A coffee, a chat, a catch-up over SKYPE
Once you purchase 'A Chat' chat I'll arrange a suitable time to connect with you and help you as you require either by email, SKYPE or on the phone. I suggest you prepare a list of questions you may have, and send them across when you purchase 'A Chat'.
Even while I was writing this someone called and said "Heather I need to talk to you, but it's not related to anything you normally do" — Yes I'm more than happy to listen and work through your issues when I can — sometimes two heads are better than one. I should mention at the end of the call she said "Heather you've saved me heaps of time and anguish".
Xero Set-Up Migration Training Support Franchise
I can help you with your Xero solution; providing Set-Up, Migration, Training, Support, and Franchise solutions. I work with Xero users, bookkeepers, advisors, franchisers, business coaches, accountants and business owners across many industries supporting their businesses implement Xero cloud based business management solution; and integrating with the Xero ecosystem where possible.
I'm insightful, fast and highly skilled at explaining how to use Xero. Working together I can get you up and running on Xero quickly. I'm a degree qualified Chartered Certified accountant.
Beyond the initial implementation I help small businesses work through problems and understand their numbers. It may simply be an extra opinion, or regular ongoing support understanding the trickier aspects of your business. As a Xero Advisor I'm keen to help businesses implement Xero based solutions, I've worked with many businesses, from micro to small businesses through to small government departments, not for profits and those who are very profitable, in Brisbane and beyond. This has provided me with insights into what works and what doesn't work in a business.
Please click here if you would like me to assist you.
MYOB to Xero conversions
You're using a MYOB at the moment and you're keen to relieve your administrative burden and move across to Xero, but just thinking about the move is giving you a headache — I can help! I can work with you to set up Xero, move your existing business data across, and provide you with training in how to use Xero.
Once you decide you want to migrate to Xero the first step in the process is for you to fill out a Client Form and return it to me (so if you're thinking about doing this shoot me across an email so you can start working on the form).
Then there are three important decisions to be made at this early stage – will your business benefit from moving to Xero, what will be the conversion date for the file and what data will be brought across.
Conversion Date: I suggest you start with the nearest date to the beginning of a tax period, like the start of your financial year.
Data: I ask you to send me across current information you want imported into Xero. If you're using MYOB you can send me your MYOB file. I extract and manipulate the data, and send it back to you in Excel Spreadsheet format for approval. The move from your existing system to a new system is a chance to detox your data, and editing in Excel Spreadsheet is super easy. Once you've approved the data you then send the updated Excel Spreadsheets back to me; I check and import the data.
The migration to Xero includes the following;
Add bank accounts and assisting with activation of feeds in Xero
Import approved contacts
Design and import approved Chart of Accounts
Dashboard customisation
Discuss management reporting needs and setup relevant tracking categories
Setup Xero invoice template
Define payroll settings and import employees [I provide you with a template I need completed]
Opening balances – once your accounts for the financial year have been finalised the full opening balances can be entered, in the meantime, I enter what you need to get started.
Invite users to access Xero
Meanwhile you could grab a copy of Xero for Dummies and jump in and start reading sections so you have an appreciation of how Xero will work for you. I tidy up various areas, give you access to the Xero file and then set-up a training session with you. I am then available as and when you need me.
How much will this cost? Setting up a Xero file for an existing business is charged at my standard hourly consultation rate because it's difficult to assess from the outset how much time it will take and any obstacles I may encounter along the way. To minimise surprises I suggest you enter as much information as possible on the Client Form I provide, so I can discuss any potential issues with you.
Xero Training Solutions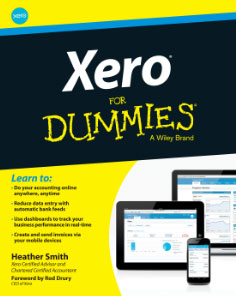 As an experienced trainer I offer several training solutions to suit your budget and requirements. The cheapest options starts in the DIY area, You can buy my books or access FREE Xero online training videos.  Or you could invest in:
Online or in person one-on-one Xero training;
Presentation style Xero boardroom sessions;
Group Xero training sessions;
New recruits training.
I encourage you to get in touch if you need further training in using Xero. Please download and complete the free Xero Training Needs analysis from my shop and return it to me so I can understand your training requirements.