The February 2017 Xero MasterMind meetup is excited to announce that Jason Forbes from Spotlight Reporting shall be presenting: Spotlight Reporting puts the power of business intelligence at your fingertips.
The session will cover:
The key benefits of our Super VCFO advisory tool-set;
A short tour of the three main tools in 'action' with a focus on highlighting key differences;
How to best apply Reporting, Dashboard and Forecasting tools across your client base;
Overview of the Super VCFO package;
How Spotlight integrates with Xero;
A walk through demonstration of the integration with Xero;
Q and A
RSVP to attend here: https://www.meetup.com/Xero-Mastermind-Meetup/events/237031266/
For more information: www.spotlightreporting.com
The perfect advisory whitepaper download: http://info.spotlightreporting.com/the-perfect-advisory-relationship-white-paper
Register for the Spotlight Transform summit here: http://hubs.ly/H05gjzt0.
Bio of presenter:
Jason Forbes is the Director of Sales, Australia at Spotlight Reporting.  He has 20 years' experience working in the accounting software arena having worked for industry leaders Solution6, Sage, MYOB, Xero and Spotlight Reporting. Foundational skills were established while working in support, training, implementation roles with the past 14 years having seen a very successful career in sales. Specialising in working with Accounting practices in both direct sales and building a sales channel. A proven performer having achieved the prestigious title of Xero's No 1 global salesperson for the 2012/13 financial year as well as salesperson of the year at MYOB (2003 & 2004). Passionate about online or cloud based applications having become a respected influencer and thought-leader in heralding in this new and exciting era. Jason thrives on public speaking and in particular presenting to both small and large audiences as well as working with accounting practices to help improve their own processes as well improving the efficiencies of their business clients.
Who would benefit from attending?  
VCFO, Management Accountants, Accountants, Bookkeepers, Developers, Cloud enthusiasts, data experts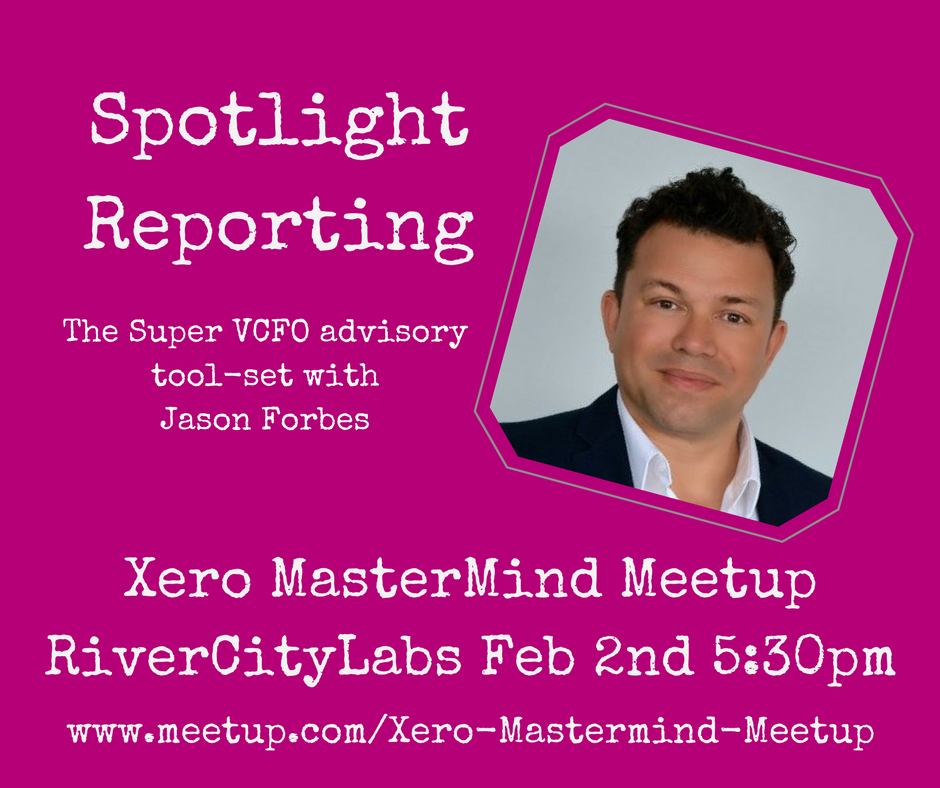 Please support the sponsors of this event:
River City Labs http://www.rivercitylabs.net/
MinuteDock https://minutedock.com/
Datamolino https://www.datamolino.com
ACCA http://www.accaglobal.com/an/en.html 
The Xero MasterMind Group is organised by Heather Smith