If you want to learn about integrated automated cloud business platforms and the efficiencies you can adopt in your business there are a number of options. You can book a session with me, and we can discuss your current business process requirements,  and I can assist you scope out your requirements, identify suitable automated and integrated solutions and map out an implementation plan.
I facilitate a meetup group that explores the features, benefits, integration and inner workings of various cloud solutions from the Xero App MarketPlace. From horizontal or generic solutions that suit all businesses, to vertical or industry specific solution that are suited to a niche industry. Join accountants, bookkeepers, developers, and business owners on the first Thursday of every month at Brisbane RiverCityLabs.
I facilitate an advanced online discussion groups for experienced Cloud Advisors and Partner solutions. Cloud business problems are shared and discussed with a global group of experts. Partner solutions share educational events, feature updates and connect with potential beta testers.
The vision for the Cloud Stories podcast is to share stories of people and businesses operating in our Xero cloud community. • Xero Developers • Cloud Integrators • End-Users • Xero Solution providers • Xero Business consultants. You can listen to the podcast here: http://apple.co/1Sl7OcT and you can visit the website here http://cloud-stories.com/
A sample of Cloud Stories guests includes:
• Richard Francis (NZ) – CEO & founder of Spotlight Reporting
• Lisa Martin (NZ) – CEO & founder GoFi8ure – Training specialist
• Bernadette Schwerdt (US) – author Secrets of Online Entrepreneurs
• Geni Whitehouse (US) – Even a Nerd Can Be Herd – accounting communication specialist
• Blake Oliver (US) – apps for accountants and bookkeepers
• Guy Pearson (AU) – CEO & founder of Practice Ignition
• Jamie Davison (AU) – Carbon Bookkeeping – Xero Platinum Partners
• Colin Hewitt (UK) – CEO & founder of Float
• Cameron Priest (SP) – CEO & founder of Trade Gecko
Together we share a 360 degree insight into this evolving Xero centric business phenomenon; Listeners pick up tips tools tactics from stories shared; we gain a deeper understanding of how people are using cloud solutions, and in turn can effectively and efficiently use this new found knowledge in our own business.
Cloud Stories – has been described as the coolest accounting podcast ever! Businesses use it as training material for staff, it counts as CPD and it has been written about here:
7 excellent podcasts for accountants
Top 10 Accounting podcasts for 2016
5 Short Business Podcasts for People on the Go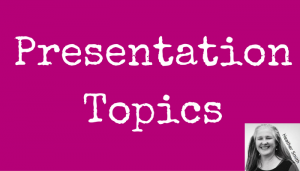 If you've enjoyed reading one of my international best-selling business books about moving your business to the clouds, then consider booking me to speak at your next business function, and let the stories come to life. I curate and deliver key information to you in digestible format. I take great pride in providing professional training sessions that cater to all levels and abilities. My talks are brimming with useful information, stories and practical tips. Through consulting, training and interviewing I've had the privilege of working with thousands of business owners assisting them in implementing systems profitable productive systems. From this vantage I've gained insights into the inner workings of small businesses. I'm also a Xero accounting advisor member of the National Speakers Association's, the local Toastmasters group and an experienced presenter.
Sample presentation styles
Conference/Boardroom/ Retreats/ Professional Development session
Typically a 20 minute – 2 hours presentation plus Q&A from the floor
Panel – participation
Typically a 5-30 minute speech on given topic, and interaction with other panelists and attendees
Can be adapted to webinar format
Clients include:
NAB National Small Business Summit, National Speakers Association, Association of Chartered Certified Accountants AU & NZ, Australian Institute of Interpreters and Translators QLD Workshop, Deloitte's, Practice Success Summit, Young Entrepreneurs Australia, Networx , Sociability Conference, Business Educators Association Queensland State Conference, Flying Solo Live, Active Management, Dickensons Accountants, Pitcher Partners, iCalm